From today, people wanting to make energy saving home improvements can get up to £7600 from the Green Deal Home Improvement Fund to help with the cost of the work.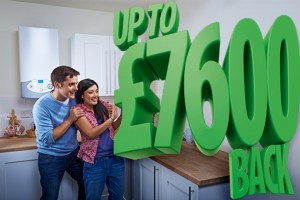 This is an excellent opportunity that will make it substantially cheaper to have a warm, more comfortable home that will cost less to heat.
The beauty of the Fund is in its simplicity. The first step is for householders to make sure they have an up to date Energy Performance Certificate or a Green Deal assessment for their property. This is so that people have a clear idea of the types of energy saving measures that could be installed to help save them money on their bills. To find out about getting a Green Deal assessment or to make sure you have a valid Energy Performance Certificate, just call the Energy Saving Advice Service on 0300 123 1234. Then it's easy - simply register online - www.gov.uk/greendeal - for the Green Deal Home Improvement Fund.
Not only can householders get back up to £6000 for installing solid wall insulation and a further £1000 for installing other eligible measures (such as double glazing or floor insulation), but they could also be entitled to a £100 refund if they choose to have a Green Deal assessment.
And for anybody who has moved home in the 12 months there's a further £500 bonus available as well.
Of course we want to see people upgrading and improving their homes, as the more energy efficient their property is, the less energy they use and the less they pay on their energy bills.
There can be considerable ongoing energy bill savings to be made from having energy efficiency measures fitted in the first place. For example, householders in a typical 3 bed semi could expect to save up to around £270 on their annual energy bill by installing solid wall insulation, and a further £100 for upgrading their boiler.
With this latest incentive from Government, there has never been a better time for people to take real control of their energy bills while they also improve their homes.
To find out more call the Energy Saving Advice Service on 0300 123 1234, or apply now for the Green Deal Home Improvement Fund at www.gov.uk/greendeal.