It is very exciting to think that the wetland biomass to bioenergy project is now entering its final stage, with only a further 11 months left to run.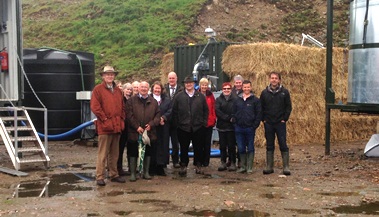 As we complete the review of Phase 2, the life cycle analysis is indicating that the participants are developing technologies that have the ability to deliver between 86.6% and 96.6% greenhouse gas savings.
The project is trialling an excellent cross-section of harvesting technologies, from a high powered 320hp, 9.5 tonne Pisten Bully to a 60hp Softrak weighing less than 2 tonnes.
These coupled with innovative storage solutions and a range of conversion technologies including anaerobic digestion, bio-charing and briquetting; there is still a lot to discover.
AMW-IBERS has got off to a flying start up in Scotland, as they hosted a demonstration day for the National Parks Planning Committee who were keen to see their innovative and flexible operation tucked away in the disused quarry at the Dell of Killiehuntly, in the Strathspey.
The committee were impressed as they were treated to displays of wetland harvesting, screw-pressing, anaerobic digestion and bio-charing. Recognising the challenges presented by the vast scale of Scottish wetlands and a cool, wet climate, the committee saw the potential of the AMW-IBERS system to turn a problem into an opportunity. With the promise of high calorific briquettes in the not too distant future, they left keen to follow progress.
AB Systems (UK) Ltd continue their cooperation with wetland mangers as they aim to offer a complete portfolio of harvesting options for the forthcoming season. Whilst Natural Synergies make the last few adaptations to their bespoke anaerobic digestion system, ready to trial a complete range of wetland biomass, from soft rush to common reed.
These certainly are interesting times and we join the conservation land managers who eagerly watch on with interest. It's this final phase which will test and reveal a potential solution to the thorny problem of wetland biomass and how to turn it into energy.
Read Sally's previous blogs on the 'Wetland Biomass to Bioenergy' project