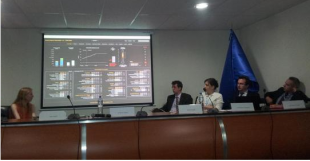 Can the world see better living standards for a population of 10 billion, and hit the 2 degree goal? Yes, according to the "Global Calculator", previewed at COP 20 in Lima.
As the world's governments gathered at the 20th Conference of Parties this December in Lima to work toward a global climate deal, an international team of experts presented a "sneak peek" of the findings from a new online tool, the Global Calculator.
This tool, due for launch January 28th in London, will allow non-experts to explore the full range of feasible scenarios for the world's energy, land and food systems out to 2050, and to see the resulting global emissions and climate change impacts out to 2100. It will put the user in control, enabling them to create their own vision of the world, or to explore existing scenarios from global businesses, NGOs and multilaterals.
The user is empowered to answer a range of questions for themselves, such as, "how far can we all travel?", "do we need nuclear power?", and "is there enough land for a growing population to eat more meat?"
The expert panel used the Global Calculator to highlight the need for urgent and ambitious action on climate change and the impacts of practical actions to combat emissions. Jean-Francois Gagne, of the International Energy Agency, emphasized the role for the Global Calculator to foster a more inclusive, evidence-based debate.
The tool has been inspired by the success of a range of country-level "calculator" tools, the first of which was the "UK 2050 Calculator", built by the UK's Department of Energy and Climate Change (DECC) in 2010.
Since then, other governments around the world have built versions for their own country with support from DECC, including China, India and South Africa to name a few. Many other governments are working to develop their own online tools, such as Brazil, Mexico, Colombia and Vietnam, and aim to publish these in the coming months.
Whilst the Global Calculator illustrates choices at a global level, these country-level tools focus on national priorities and highlight the full range of longer-term supply and demand choices at a country level. For example, Rodrigo Suarez, Climate Change Director from Colombia's Ministry of Environment, explained the value of the Colombian Calculator, due January, in supporting his government's process for defining its "Intended Nationally Determined Contributions" for emissions reductions under the U.N. Framework Convention on Climate Change.
A range of different governments have found the tool useful for identifying which technologies and actions have the biggest impacts, whether on energy security or greenhouse gas emissions, and for communicating strategic choices to audiences inside and outside of government.
An overarching philosophy of the Global Calculator is transparency – the underlying model and all its data and assumptions will be fully published. It has already been through extensive peer review, through stakeholder workshops in India, China, Europe and the USA, and with experts from around the world commenting on it during an open "call for evidence" this summer.
The team has adopted this approach in an effort to build trust in the analysis and to make the tool as relevant and robust as possible. This global, collaborative effort has been led by DECC in partnership with Climate-KIC, the World Resources Institute, Energy Research Institute China, Ernst and Young (India), London School of Economics, Imperial College London, International Energy Agency, Climact and Climate Media Factory.