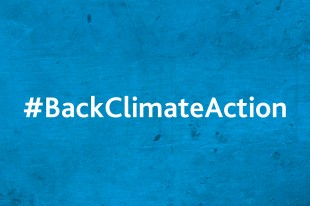 It's week four for me as the new Chief Scientific Advisor (CSA) at the Department of Energy and Climate Change (DECC), so it seems time to plunge into blogging. So it's great to kick off by talking about an exciting Twitter event taking place on 25 November. The event, organised by DECC, will focus on the importance of taking action to tackle climate change.
We've probably all heard of the publication of the Synthesis Report of the IPCC's 5th Assessment a couple of weeks ago. The result of six years' worth of work by hundreds of scientists world-wide, it concludes that there is unequivocal evidence that climate change is being caused by human activity and that if left unchecked it will have serious and damaging impacts.
So what needs to be done if we are to avoid these serious impacts and meet the ambition of limiting global temperature change to 2°C. Let's not be complacent: achieving this will be extremely challenging. It can be done but needs major improvements in energy demand reduction through improved efficiency and behaviour change, to make rapid decarbonisation of our energy supply feasible. That will need widespread public engagement so the question now, is how to communicate the scale of the issue and to show that action can be– and is starting to be –taken.
Do most of us really understand how a changing climate will impact what we do day-to-day? How will it affect our health, the food we eat and the environment we live in? And, perhaps more importantly, what can be done to tackle an issue that the Prime Minister, David Cameron recently described as: 'One of the most serious threats facing our world.'
On 25 November, we will be working with a huge range of UK and global partners – including Microsoft, The UN, Unilever and British Medical Association are just a few – to try and explain the broad range of impacts, particularly on those everyday things that we take for granted. We're going to do this through a new approach - a day of online activity on Twitter, inevitably called a Tweetathon.
The day will be split into themed hours, such as health, food and sport during which a group of different organisations will talk about how climate change impacts that particular subject. We hope to provoke conversations that generate broader understanding and interest in the issue.
Follow it on Twitter using #BackClimateAction. You might learn something have thoughts to share, or take the chance to put questions to any of the organisations who are leading a theme.
Let's hope it makes you and others want to find out more about climate change; and to get ahead before the day you can have a sneaky look at our climate change explained page on GOV.UK
Climate change tweetathon schedule (GMT)
Event launch: 9-10am
Health: 10-11am
Cities and homes: 11am-12pm
Food and water: 12-1pm
Sport: 1-2pm
Biodiversity and natural environment: 2-3pm
Business: 3-4pm
UK government: 4-5pm
International action: 5-7pm
Security: 6-7pm